Models & Comparisons | Ford & CDJR Vehicles
Models & Comparisons | Ford & CDJR Vehicles
Welcome to our new model reviews library. Here, we've collected a number of reviews covering many of the exciting new Ford, Chrysler, Dodge, Jeep and Ram vehicles that we offer for sale. If you are curious about any of the models listed, just click through to read about some of the features and specifications that make them unique and set them apart from the competition. The reviews also give you a sense of the kind of driving style that each vehicle is best suited for. We hope exploring the reviews will help you decide on exactly what kind of new Ford, Chrysler, Dodge, Jeep or Ram you would like as your next car.
Ford, Chrysler, Dodge, Jeep & RAM Models
CHRYSLER
DODGE
JEEP
RAM
ALL MODELS
Dodge
Charger
Jeep
Cherokee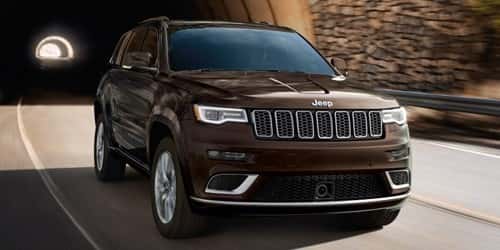 Jeep
Grand Cherokee
Jeep
Wrangler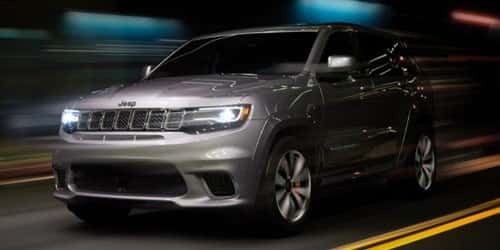 Jeep
Grand Cherokee Trackhawk
Performance
Among all the automotive brands, Ford, Chrysler, Dodge Jeep and Ram models are best known for their dedication to excellent performance. This takes different forms among the different vehicles you'll find in our inventory. For example, the Jeep Wrangler is simply unbeatable when it comes to excellent off-road performance. The powerful EcoBoost engines of the Ford Escape combine solid performance with great efficiency, giving you the best of both worlds. And if it is pure power that excites you, then you will feel right at home in the Dodge Challenger and Charger models equipped with the 707-horsepower supercharged "Hellcat" Hemi V-8. Whatever sort of performance you are after, there is a model in our lineup that is suited perfectly for that exact purpose.
Innovation
The cars that you will find in our inventory are all products of many years of innovation, and many push the envelope with new features, options and ideas that allow you to remain on the cutting edge of car technology. There is the innovative use of aluminium in the new Ford F-150 that has allowed the truck to shed significant weight while still retaining excellent structural strength. You can find the newest safety technologies including dynamic cruise control, automatic safety braking, lane departure warnings and others across many vehicles in the lineup. And for the fans of new cell phone technologies, there is the Sync Connect technology that allows you to turn the car on remotely using an app on your cell phone. With these and many other innovative technologies available, you can find a great technologically advanced vehicle among our offerings.
Style
There are many amazingly stylish vehicles to be found in our inventory of Ford, Chrysler, Dodge, Jeep and Ram cars. It is difficult to resist the traditional muscle car looks of the Dodge Charger, the refined and luxurious exterior of the Chrysler 300, or the modern lines of the Ford Escape. With many cars in various different styles, it is easy to find the one that looks the best to you. Even the Chrysler Pacifica – a minivan – is a beautifully sculpted work of art. Take a look at some of the vehicles we have available and see which one looks best to you.
Our selection of Ford, Chrysler, Dodge, Jeep and Ram vehicles is filled with amazingly stylish and innovative cars that offer excellent performance. If that is the kind of vehicle that you want for your next car, you owe it to yourself to stop by and check out some of our vehicles. Contact us for more information and to schedule a test-drive appointment today!